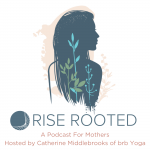 In this episode of Rise Rooted, Catherine speaks with Parijat Deshpande about trauma. We define trauma and what creates it, including how it can easily happen to women who have a "normal" pregnancy and birth. Parijat shares examples of the ways trauma manifests and how to begin healing trauma through body-based approaches that regulate the nervous system.
Parijat Deshpande is a leading high-risk pregnancy specialist, trauma professional, speaker, and author who teaches women how to deactivate their stress response before, during, and after a high-risk pregnancy so they can give their baby a strong start to life. Her unique approach has served hundreds of women to manage pregnancy complications and reclaim safety and trust in their bodies that they thought were eroded forever. Parijat is the author of bestselling book Pregnancy Brain: A Mind-Body Approach to Stress Management During a High-Risk Pregnancy. She is also the host of the popular podcast Delivering Miracles®, which discusses the real, raw side of family-building including infertility, loss, high-risk pregnancy, bed rest, prematurity, and healing once the baby comes home.
Learn more about Parijat Deshpande and her work at www.parijatdeshpande.com.
Connect with her on instagram: https://www.instagram.com/healthy.highriskpregnancy/
We Cover:
The definition of trauma and how it is related to a lack of a feeling of safety
The role of the nervous system in trauma
How trauma manifests in women and how it relates to the issues of postpartum depression and anxiety
Parijat's experience with trauma after prolonged bedrest and the premature birth of her child
How body-based approaches can help heal trauma (and how these differ from mindfulness)
The importance of practicing feeling safe in your body BEFORE a major event like birth
Navigating pregnancy during the Coronavirus pandemic
Resources Mentioned:
Parijat's Book: Pregnancy Brain