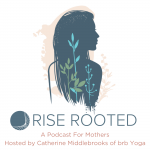 In Episode 7 of Rise Rooted, Catherine and Lane Clark discuss how taking nature adventures with their kids is a way of filling their own cups.
We discuss:
The many benefits we receive from taking our kids outside for extended periods of time.
The mindset shifts that make the experience more enjoyable for everyone.
Practical tips for how to do it & what to pack, &
How we feel about our husbands joining us, & more!
Lane Clark, owner and CEO of Lane Clark Consulting, is a space holding, community building, team operating, right hand woman to high performance female CEOs. Learn more about her work here: www.laneclarkconsulting.com
She is the mother to two wild daughters and together they spend their time traveling, running wild in the woods, reading, homeschooling and sipping tea. Follow their adventures here: https://www.instagram.com/liz.lemonade/