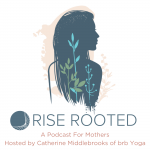 In Episode 8 of Rise Rooted, I interview Katie Krimitsos of the Women's Meditation Network.
We cover:
Why Katie believes that meditation is one of the best tools to become a better leader in your own life.
How meditation helps you access your "inner voice" and what that inner voice feels like.
The positive benefits of meditation in your day to day life and for your overall worldview.
How to get started with meditation
How to fit meditation into #momlife
The benefits of starting with guided meditation (like Katie provides on the Women's Meditation Network)
Katie Krimitsos is a mom, wife, adventurer, podcaster, seeker and change maker. She's committed to brightening the light of women around the world through the Women's Meditation Network, which provides guided meditations and related resources specifically created with the special journey of women in mind. She's passionate about giving women the tools, strategies and inspiration to live lives they truly love. She loves the water, the sound of her two girls laughing with each other and is constantly evolving to make her life and the lives of others as magical as possible.
Find her here:
Resources Mentioned
Women's Meditation Network Podcast on Apple Podcasts
Free 7-Day Meditation Challenge