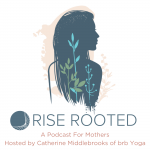 In Episode 9 of Rise Rooted, I interview Dr. Lyndsey Harper, the founder and CEO of Rosy Wellness.
We cover:
The surprisingly high prevalence of sexual health issues in women, including low libido & low desire.
The definition of low libido (it's likely not what you think)
How to distinguish between normal, expected, dips in sexual desire due to life circumstances vs. an issue that needs to be addressed with an intervention
The roles of arousal and desire in women, and how we differ from men.
The cyclical nature of desire and simple, evidence-based ways to increase desire in women.
Why we all should be having #sexbeforedishes.
The free Rosy App designed to help you take charge of your sexual wellness.
Dr. Lyndsey Harper is an Associate Professor (Affiliated) of Ob/Gyn for Texas A&M College of Medicine, a Fellow of The American Congress of Obstetricians and Gynecologists, and a Fellow of the International Society for the Study of Women's Sexual Health. Dr. Harper completed Ob/Gyn residency in 2011 at Baylor Scott and White in Dallas, Texas, and now works there as an Ob/Gyn hospitalist.
Dr. Harper is the Founder and CEO of Rosy, a women's health technology company that connects women who have sexual health concerns with hope, community, and research-backed solutions. She has been named Forbes Top 53 Women Disrupting Healthcare, People Newspapers' 20 Under 40, a Top Innovator in North Texas for 2020 and a DBJ Top Women in Technology honoree.
Connect With Dr. Lyndsey Harper:
Resources Mentioned:
Rosy App: meetrosy.com