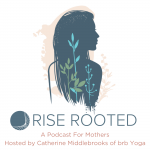 In Episode 10 of Rise Rooted, I interview Kristen Carbone, Founder of Brilliantly.
We cover:
Kristen's experience caring for her mother as she fought breast cancer and Kristen's decision to have a preventative double mastectomy in her early 30s.
How to step into the role of self-advocate for health issues and why this is so important.
How to find and create a health team that you trust.
How fear plays a role in health decisions and how the relationship to fear can change over time.
How self-advocacy is an ongoing, life-long job.
Lessons learned from losing a parent at a young age.
How to support friends during crises.
Kristen Carbone is committed to making the lives of the people around her more comfortable, fulfilling and beautiful. After a decade long career working in curatorial departments in Museums across New York and New England she founded Brilliantly, a brand dedicated to meeting the long term, quality of life issues faced by women who've had an experience with breast cancer. She currently resides in Providence, Rhode Island where she lives with her two children.
Connect With Her:
Resources Mentioned:
Brilliantly Strong: A collaboration between Brilliantly and brb Yoga. A free corrective exercise program for women who have had surgery and are looking to regain strength and mobility.
Book: Pretty is What Changes