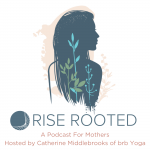 In Episode 13 of Rise Rooted, I share a recording from 2018, when I was in the midst of major life changes and huge transitions.
One thing is certain in 2020…there is no certainty! Plans have shifted, families are adapting, and these massive changes can feel hard.
In this episode, you'll hear about my experience with rapid change, what I learned from the experience, and I share a simple meditation technique that helped get me through the chaos!