Heal Your Core With Yoga Program
Rebuild Your Post-Baby Core…so you can say YES to Life!
Heal Your Core Now
Hey Mama…
Have you tried everything to rebuild your postpartum core strength, but still feel broken? (and it's starting to get you down?)
What if there was a safe, effective, proven way to restore your core strength and fix your diastasis recti…
…so you can get back to doing all the things you love?
And all you need is 20 minutes a day.
You've always been active.
Whether you're into yoga, running, dancing or hiking — you LOVE the way movement makes you feel.
But since you had your baby, everything changed.
You've got back pain, hip pain, or weird spasms.
Some days you can't even pick your baby up without crying out in pain.
And there's a weak, noodle-y feeling in your core that tells you something isn't right.
You feel broken.
There's a Mom pooch where your abs used to be and let's not get started on 'pee sneezes'.
You feel like a stranger in your own skin.
People say this is normal.
That this is just what happens after having a baby.
Who are they kidding??
You want MORE out of life than this.
And Mama, you've earned it.
You deserve to play tag with your kids, climb mountains, dance all night, jump on the trampoline (without fear of peeing yourself), and be the happy, healthy, active Mom, wife, and woman you want to be.
You thought you'd be back to normal by now.
They told you 'just wait for the six-week checkup' and then you could get back to all your regular exercise.
If only it were that simple.
You've tried physical therapy, Mommy & Me yoga classes, home workouts or even pilates — but your core feels weaker than ever.
Now you're scared to try your favorite yoga poses or high-intensity workouts, in case you injure yourself.
Fact is, you're worn out and worried you're going to feel this way forever.
You just want your body – and your SELF – back.
Let's do something about that.
I'm Catherine Middlebrooks.
Certified yoga instructor, postpartum corrective exercise specialist, and the founder of brb Yoga.
I know what it's like to feel like your body is broken.
After my six-week postpartum check-up, I couldn't wait to return to my active lifestyle.
But no matter what I did, my back hurt, I felt like a limp noodle and my abdominal separation got worse.
I switched into researcher mode, learning everything I could about abdominal strength, the pelvic floor, diastasis recti and the postpartum body.
I spent hundreds of hours studying yoga anatomy, biomechanics, physical therapy, core rehabilitation and musculature, piecing together all the information to create a holistic picture.
I discovered that alignment can make or break your ability to heal.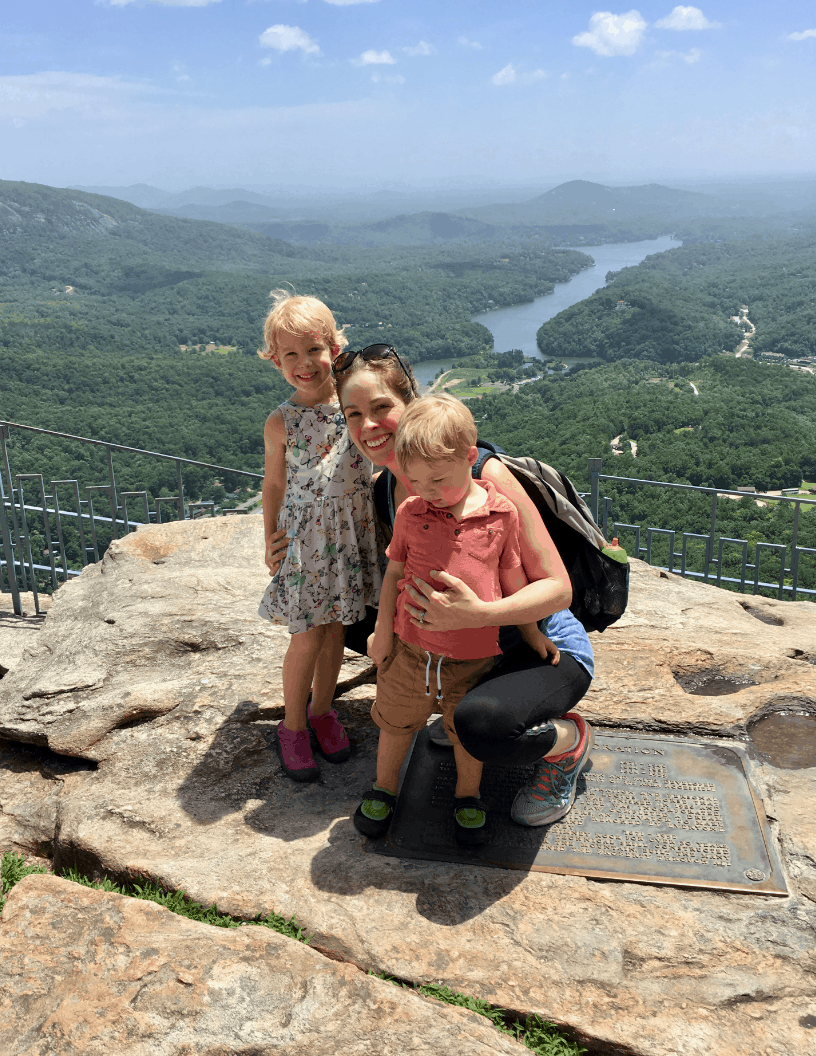 So I began playing on the mat, adjusting yoga poses to address muscular imbalances and create proper alignment in my postpartum body.
Before long, I was able to get back to the yoga practice that meant so much to me.
I not only healed my diastasis, I felt stronger than ever.
And because I was holding myself correctly throughout the day, random longstanding aches and pains simply disappeared. During my second pregnancy, I felt confident because I knew how to move safely and I was able to restore my core quickly after birth.
Most importantly, I felt alive again.
I could say YES to all the adventures life has to offer without fear of pain or injury.
I want that for you, too!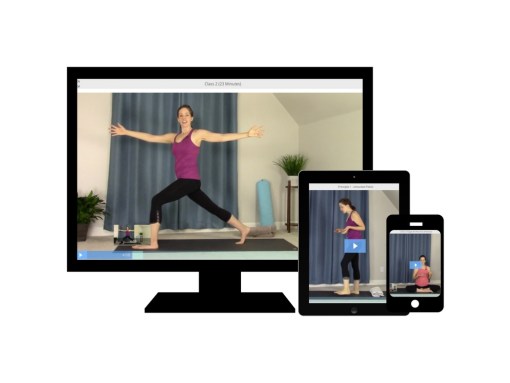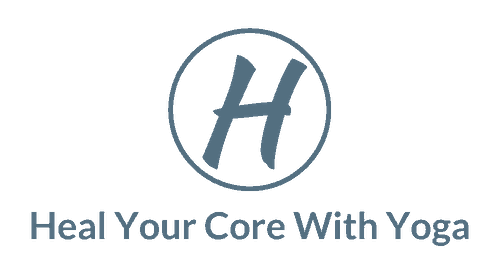 Heal Your Core With Yoga is an online, postpartum yoga program specifically designed to close your abdominal gap and safely build lasting core strength, so you can get back to doing what you love.
It's a proven, research-based system that eliminates the post-pregnancy body patterns that keep you weak and creates new patterns that make you strong — so you can get back the active lifestyle you miss so much.
And all you need is 20 minutes a day.
I'm healed!
After my second pregnancy, I had a three and a half finger diastasis and about 60 pounds to lose. But I didn't feel I could work out until I healed my core.
I had a one-finger or less gap at the end of the program. I can do kickboxing, jump on a trampoline, laugh, and sneeze without peeing myself. I have better posture and stand up taller. And since starting this program, I have lost 25 pounds.
I thought maybe I would have a weak core for a long time, but it really did not take much time at all.
I credit this program with helping me start to get my swagger back.
​This program is legit, is cheaper than physical therapy, and a hella lot better than a tummy tuck!
So What is Diastasis Recti Anyway?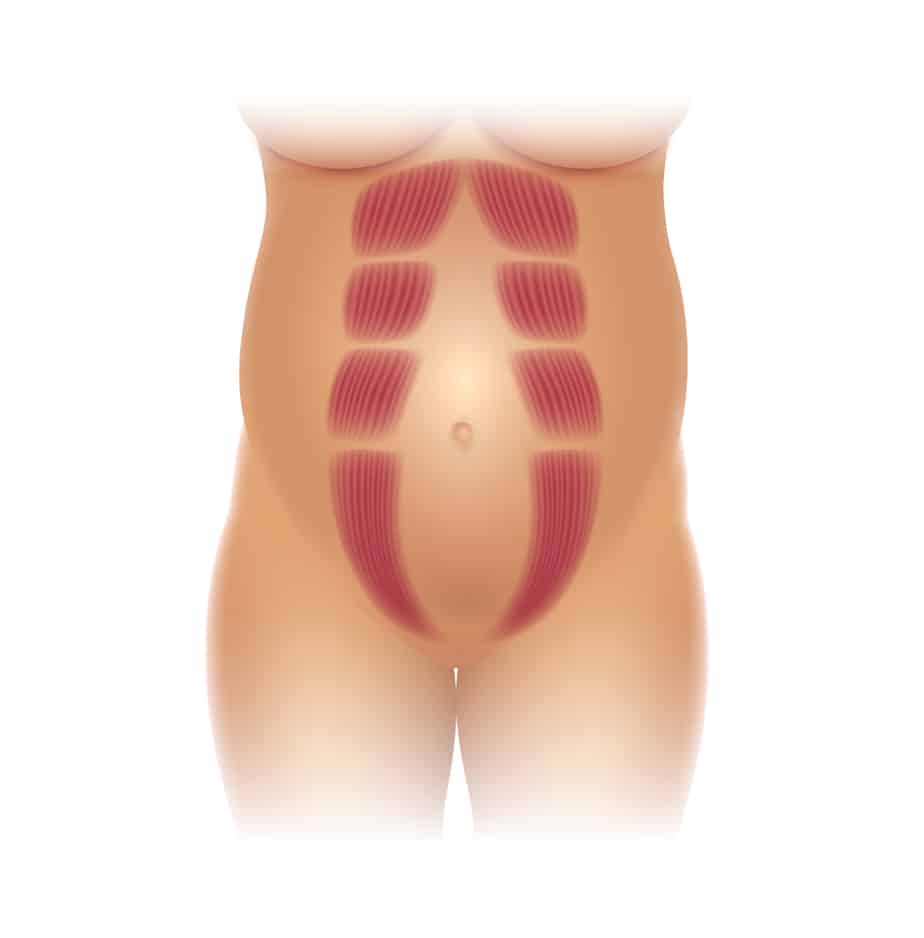 In pregnancy, the muscles of your abdomen separate to make room for your baby. When they don't knit back together, you end up with diastasis recti.
The weakness in your core causes other parts of your body to carry more of the load, and your body gets thrown out of alignment, leaving you vulnerable to pain and injury.
Conventional ab exercises like planks and crunches put more pressure on your weak spots, and may even make your diastasis worse.
Before you can rebuild your core strength, you have to get your post-baby body back into alignment.
And that's what you'll learn in Heal Your Core With Yoga.
Together, we'll eliminate the root cause of your weakness, create proper alignment and train your core to work for you, all day every day.
That's right. You really can repair your core while you sit at your desk, drive downtown or fold the laundry.
This program was designed for the busiest of moms.
Here's how it works.
You get
Lifetime Access

to the entire 6-module online program…
and all future updates!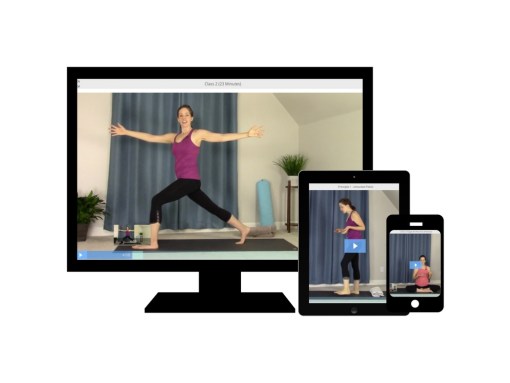 Each week, for 8 weeks, you will receive:
A 20-minute online yoga practice video designed to strengthen your deepest core muscles, and re-train your body alignment.
A new training module to deepen your understanding of the work.
An easy-to-follow schedule for the week so you always know what to do (NEVER more than 20 minutes a day, 4-5 days a week)
**Yoga practices come in: streaming video, downloadable audio, and downloadable PDF format.
Here's What You Get with Heal Your Core With Yoga:
6 Step-by-Step Training Modules
8 Twenty-Minute Core-Lovin' Yoga Practices
An 8-Week Training/Learning Schedule (so you always know what to do!)
24/7 Online Access: Practice at a time and place that suits you.
Lifetime Access to the Entire Course: Going on vacation? Sick kid? No problem. Take a break and pick up again when you get back.
Module 1: Light Your Fire
Let go of any negative beliefs that are holding you back and unlock the secret to keeping your motivation high, while you heal your core — for good.
Module 2: Shift Your Patterns
Get clear on the root cause of diastasis, and discover how to exchange risky movements and breath patterns for healthy, strength-building ones.
Module 3: Heal Your Core All Day, Every Day
Re-align your body to promote the healing of your diastasis and make all your movements core strengtheners. Discover and practice the 3 alignment principles that will help you build core strength, all day every day.
Optional Add-On:

You have the option to get my personalized feedback on your alignment.
Module 4: Ignite Your Core
Discover how to fire up your deep core and pelvic floor muscles to create lasting core strength. This is core exercise as you've never known it before.
Module 5: Let's Flow
We practice simultaneously aligning the body and strengthening the deep core muscles with your foundational home yoga practice.
Module 6: Make Yoga Your Own
Make any studio, gym, or online yoga class safe for your core. Learn the poses to avoid while your core is healing, how to modify problem poses, and how to make every class safe for you.
I know you'll love this course as much as I do.
I know it's going to transform your life.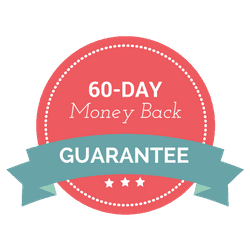 That's why I offer my Heal Your Core GUARANTEE.
Take 30 days to try Heal Your Core With Yoga.
If you're not feeling stronger and more confident in your body, email me within 30 days of enrollment and I'll issue a full refund.
How do I know Heal Your Core will work for you?
This program is totally doable, even for the busiest of Moms. You only need 20 minutes a day, 4 or 5 days a week. And once you start feeling the benefits, trust me, you won't want to stop.
Each module builds on the last, so you'll develop your strength and alignment as you go and create habits that stick.
Over 2,000 women just like you have already completed the program and it's changed their lives. They've gone from feeling wrecked and hopeless to smashing their pre-kids running pace, getting back to aerial silk work, and dancing all night at a Lady Gaga concert (with no pee leaks)!
I cannot tell you how much this program transformed my body
Before I had my two children, I had been an avid runner—an activity I got a lot of joy out of. After having my children, I went from someone who could run 8-minute pace in my sleep, to someone who struggled to run 11-minute miles.
After my son (baby No. 2) was born, my stomach was basically a bag of Jell-O that was barely holding me upright. What was more disconcerting is I was trying every core regimen I could get my hands on, but nothing worked. In fact, some of the programs I tried even seemed to make things worse.
I cannot tell you how much this program transformed my body! This is the first program I have found where I feel like I actually regained significant core and pelvic floor strength.I feel like a whole person again, as opposed to someone who is walking around with a gaping hole in my midsection.
I have noticed a HUGE difference in my running. I am beginning to hit some of the paces I ran before I had babies—something I had pretty much given up on! My core is so much stronger, and I'm recruiting my hamstrings in a way that I never have before—even before I had children.
I feel like taking the class precipitates a lifestyle change. Not only are you able to regain your core and pelvic floor strength and improve your diastasis recti, but you are able to make adjustments to your posture in your everyday life, which helps alleviate back and hip pain. Plus, as a bonus, I lost my "mom paunch" after completing this class. This was not a goal of mine because I did not think it was possible (nor did I really care if I ever lost it), but I am happy to say that it is gone.
I have literally told every mom I know about this program! It is worth the time and effort, and it's worth every cent!
This class has taught me that with a little commitment, it is possible to get your body's functionality back. You don't have to struggle with pain or give up the things you love.
Frequently Asked Questions
I've never done yoga before. Is this course suitable for beginners?
Yes indeed! The program and poses are suitable for both beginner and experienced yoga practitioners and provides the ideal foundation for a home yoga practice.
If you have a diastasis and are thinking about starting a yoga practice, I highly recommend you start with this program. There are very few yoga teachers who understand how to modify a yoga practice for diastasis, and many beginner classes include poses that are best avoided while healing.
I want to do this but life is sooo busy. Can I do this on my own schedule?
I totally get it. I'm a busy mom too, so I designed Heal Your Core exactly for women like you and me.
Whether you're a career mama or at home with the kids, Heal Your Core with Yoga is totally doable and flexible for the craziest of schedules. You can complete the practice in just 20 minutes a day (that's quicker than driving to the gym). And you can choose to have two or three rest days every week.
I've kept the modules short and concise, and the key information is delivered in bite-sized chunks. All the videos are available 24/7 and you get lifetime access. No need to stress if you're interrupted by baby, miss a week or get behind – you can come back to the program any time you like. You got this.
I've tried so many programs and nothing has worked. How can I be sure this will work for me?
Most programs out there are really good at strengthening the core for the short term. You do specific exercises that narrow the gap.
But they don't address the root cause of diastasis — pressure in the abdomen from a misaligned body.
The result? The strength you create doesn't last.
The Heal Your Core With Yoga program is different.
Yes, you strengthen your core.
But you also re-align your body so you eliminate the root cause of your diastasis. Both on the mat, and in your day to day life.
The result? Lasting core strength. Because your daily movement patterns reinforce the strength you've built in the program.
And if, for some reason, it doesn't work for you, you can get a refund within 30 days!
Tell me more about this guarantee...
I really don't want you to foot the bill unless Heal Your Core With Yoga really is the missing link between you and lasting core health.
That's why I give you a FULL 30 DAYS to try the program before making a final commitment. If you don't love the course, send me an email and I'll give you a full refund. It's really that simple.
I had my baby years ago, but just found out I have a diastasis. Can this still help me?
Absolutely.
A diastasis is caused by alignment patterns. Once we correct the alignment patterns, you allow your body to begin healing. This is the case whether you had your baby 3 months, 3 years, or 30 years ago.
Is this suitable for c-section mamas?
Yes! C-section or vaginal birth, this course will help you strengthen the areas that pregnancy made weak.
I'm not sure I have a diastasis but I do have (back pain, pelvic floor issues, a super weak core, etc.). Will this program still help me?
I can't speak to every physical symptom out there.
But symptoms like chronic back pain, hip pain, pelvic floor issues like prolapse and incontinence, and generally feeling unsupported in your midsection, usually mean your core isn't working effectively.
If this sounds like you, you will benefit from the strengthening in the program even if you don't have a diastasis.
I have lots of students who don't "officially" have abdominal separation.
They're simply ready to try a smarter approach to creating core strength.
And when they build that core strength, they feel better.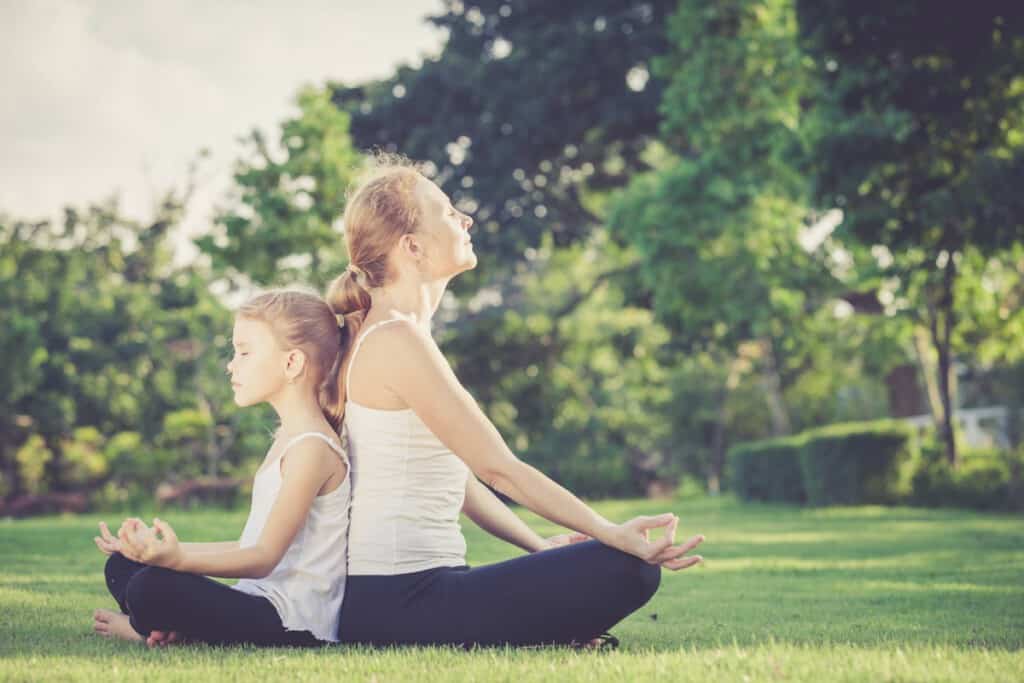 How Good Would it Feel To:
Wake up every day feeling good in your own skin.
Get back into the activities that bring joy and meaning to your life with ZERO worries that you'll hurt yourself.
Feel completely confident saying YES to a game of tag with your kids, a new exercise class or a weekend hiking adventure.
Let go of ALL that mental energy you have spent trying to fix yourself.
Know that your kids are watching you live a healthy, active life and have a fun Mom who refuses to live life on the sidelines.
I know you're busy.
I know you don't get much sleep.
I know it's hard to put yourself first.
And I know you have little people around ALL. DAY. LONG.
But here's the thing…
You have one life and it is happening RIGHT NOW.
The longer you sit on the edge, opting out of all the juicy goodness of life, the more you — and your family — are missing out.
You deserve to feel healthy, whole, strong, and capable again.
Your family deserves to have THAT Mom.
All in. 100% you.
Heal Your Core With Yoga
Special Offer!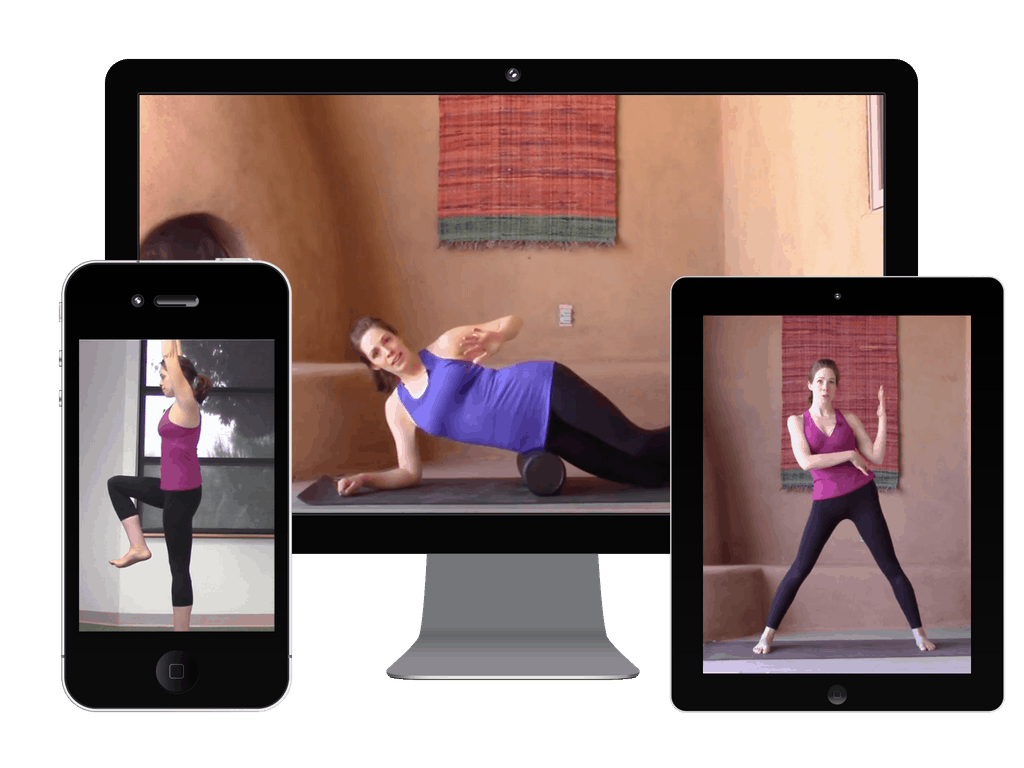 LIFETIME ACCESS
Heal Your Core With Yoga
$
299
/

or 2 payments of $154
Lifetime access to the full 6-module program.

8 complete 20-minute yoga practices.

An 8-Week Training Plan.

Downloadable PDF of Yoga Modifications.

E-mail Support From Catherine.

60-Day Money-Back Guarantee.
**Payment plans: Pay one payment today, and one payment 30 days from now (for 2 pay options). Payments are automatically charged to the credit card you use today.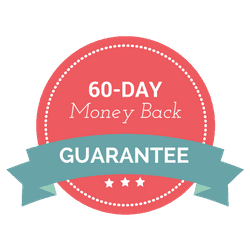 What People Are Saying About Heal Your Core
Thank you so much for helping me feel capable and whole again.
I think you've got something really great here and was just what I needed. To be honest, I was pretty sure this program was going to be just another thing that I paid for and didn't follow through on (I've spent way too much money trying to get myself to exercise). But I actually did it this time!
Your pacing was great, the goals you set were manageable (love that the videos are only 20 min), you were super supportive, and I really liked the accountability check-ins. I'm a psychologist and I don't know what your training is, but you definitely have down a lot of elements of making behavior change and you execute and support them expertly.
The yoga in this program was key to healing my core.
At 2.5 years postpartum, I entered this course with a pretty good understanding of alignment and having already "closed my diastasis gap". However, I still suffered from a lack of core strength and felt anxious about whether I was moving in ways that were helping or hurting me.
Catherine's course solved a lot of the mystery for me. Through the live calls, I had the opportunity to literally get in front of her and receive assurance of how to do certain movements.
For me, the yoga in this program was key to healing my core. Only after making this connection back to my practice was I able to gain all the benefits of alignment adjustments and the strengthening that follows. Thank you, Catherine. It felt right, right from the start and I will continue this practice joyfully.
If you are thinking about Heal Your Core With Yoga…Do it!
You won't regret it. The cost is so nominal when you realize how much better you will feel during and afterward and how life-changing it will be to reassess your alignment and habits and make a change for the better.
Angela
The alignment principles immediately improved, and over the 8 weeks have eliminated, my daily back pain.
Taking my back pain out of the equation has allowed me to tackle some large cleaning and organizing projects around my house, get through a day with more energy, sleep better, and enjoy weekly dance lessons without injuring my back.
Joanne
Hands down, the best online program I've found.
I like the entire design of the program, but especially I appreciated the individualized attention Catherine provided.
I love the weekly check-ins and the videos we sent in for feedback on posture & breath.
The core practices with options of audio-only and a printout of the poses are very helpful. The fact participants can stay involved and connected once the 8 weeks are complete is truly amazing.
Catherine is easy going and fun. She has an incredible knowledge of Yoga and anatomy. She has a teaching style that allows students to be comfortable with who and where they are. It is easy to see Catherine is passionate about what she does. What a gift she is!
Nancy
Still not sure if Heal Your Core is right for you?
You're ready to Heal Your Core if:
You've had enough of pain and weakness. It's holding you back and you've had enough.
​You're done with pee-sneezes and ready to say NO to a future relying on absorbent underwear. Uh-huh. By the time they hit their 60s, incontinence is a fact of life for many women. Take time to heal your core and sort out those pee-sneezes now, and believe me, your future self will thank you for it.
​You're tired of spot fix exercise programs that treat the symptoms, not the root cause. You want a holistic program, that will unravel those unhealthy patterns and create a strong foundation, for life.
​You're willing to commit 20 minutes a day, four or five days per week, to rebuild your core. That's about half of one infant naptime – leaving enough time for a cup of tea before baby wakes.
​You're ready to get off the sidelines and back into your LIFE. Whether you love dancing, biking, hiking or acrobatics, you want to get off the couch and back into whatever makes your heart sing.
I thought this course would be perfect, and it was!
I was really struggling with the changes my body experienced after having two children. I started doing yoga and pilates to help tighten my core but nothing seemed to be working. 
​This course was the first one I consistently made time for because I loved it! I felt all the benefits. Not just the calm and peace that come from Yoga, but the strength that was coming back to my core, and the knowledge that I know how to move in my everyday life in a way that is healing my body and not hurting it.
Life is short.
You deserve to get your strength back, so you can bounce on the trampoline, run a marathon, dance all night, climb a mountain and do whatever makes your heart sing without fear.
(And yes, my students have done all these things).
You can be the mom, the partner, and the woman you want to be.
And it starts right here, right now.
Let's go.