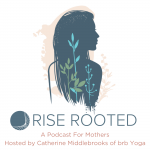 In this episode of the Rise Rooted Podcast, Catherine speaks with Lindsay Stenovec about body image, creating a postive relationship to your body and food, the power of embodiment, non-diet wellness, intuitive eating and other topics.
Lindsay Stenovec is a Registered Dietitian and Certified Intuitive Eating Counselor who is passionate about helping mothers and parents reduce stress and guilt around food and movement by restoring their trust in their bodies, taking weight obsession out of the equation and re-defining health and self-care so that each mother and, in turn, family can thrive. She is a podcast host, frequent speaker, and creator of intuitiveeatingmoms.com online programs. Lindsay lives in San Diego, CA with her husband and 2 spunky boys – ages 5 and 2.
Connect with her in instagram at: www.instagram.com/lindsaystenovec_rd
We cover:
How to approach negative feelings toward your postpartum body
The importance of being in relationship with your body and your hunger
The downside of the body positivity message
The positive benefits of being embodied and simple ways to do it.
Non-diet wellness and intuitive eating
How to navigate these issues when you are facing the stresses of parenting
Resources Mentioned:
Lindsays's free trainings including the BUSY MOM'S STARTER GUIDE TO MAKING PEACE WITH FOOD
Lindsay's website: Intuitiveeatingmoms.com