If you are in a hurry and just want our top pick for best pelvic floor trainer, we recommend the Elvie Trainer Exerciser.
Pelvic floor trainers, or kegel trainers, are unique and intimate exercise tools that allow you to strengthen your pelvic muscles and achieve control over postpartum incontinence. Other benefits include the possibility of better core strength.
In our pelvic floor trainer reviews, we review a few varieties and share with you our top pick. We also cover what key features to look for in a kegel trainer. 
The top five best pelvic floor trainers are:
Important Caveat
Pelvic floor trainers are only appropriate for women with underactive pelvic floors. 
If you have an overactive pelvic floor, doing Kegels can potentially increase tightness, pain, and incontinence. 
Not sure whether your pelvic floor is over or underactive? Head to this post for guidance. 
The Best Pelvic Floor Trainer: Features That Matter

If you're new to pelvic floor trainers, it's understandable to feel slightly lost. You'll want to choose a device that's comfortable and easy to use.
Thankfully, there are many options on the market now, given that one-third of women experience pelvic floor difficulties at some point in their lives. These difficulties could be related to age or pregnancy or pregnancy-related changes to the body.
Below are some features to look out for when you're shopping for a pelvic floor trainer.
Exercise Variety
Almost all the pelvic floor trainers pair with a bluetooth app that provides you a variety of exercises to complete. 
Ideally, pelvic floor trainer apps will provide exercises that impact both fast- and slow-twitch pelvic floor muscles. 
Exercises should ideally include: 
Squeeze and Hold

Quick Flick Squeezes, 

Lifting of the muscles, and

Full Relaxation of the Muscles.
Fit

Choosing the right fit can be tricky if you've never used a pelvic floor trainer before. In a way, it's similar to a menstrual cup. You'll want it to slip inside your vagina with little pressure, but you don't want it so loose that it falls out easily.

Some manufacturers provide guidelines such as a "one finger" or "two finger" fit, referencing the space available between the two vaginal walls.

If you're over 30, postpartum, or find that you can't hold a slim tampon well inside, you might want to opt for a larger size.
Certain models, like the Elvie, come with an optional cover that increases the size of the unit if needed.
Material

Given the sensitive nature of the vaginal area, it's important to choose a trainer with a material you like and that feels good against your skin. Silicone and other hypoallergenic components are your best bet. These materials are also easy to clean.
Avoid a pelvic floor trainer device that contains materials with phthalates and BPA. Research points to BPA as a reason for hormonal disruption, like irregular periods or issues with fertility.
Water Resistance
If you want to use your trainer in the shower, opt for a waterproof model. Some materials and devices are 100 percent waterproof, while others are water resistant only, meaning they can't be fully submerged.
Design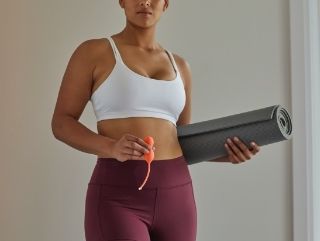 Kegel trainers usually feature a single ball or a double ball design. The single ball option might be best suited for individuals new to these exercise devices, while the double ball style is good for those that have experience with a kegel trainer or desire more stimulation.

Cost 
Pelvic floor trainers cost anywhere between approximately $50 and $200. If you're interested in something that comes with a pelvic floor trainer app and tracking options, you'll likely spend more.

The more basic options tend to offer fewer exercise varieties. 
Proper Kegel Form

For those new to kegel exercises, it's a good idea to understand the mechanics of a kegel before using the device: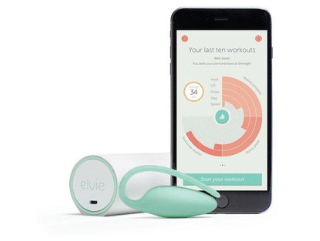 The Elvie Trainer Exerciser is a sleek top-of-the-line product for those that prefer a smartphone-friendly pelvic floor trainer. It's also 100 percent waterproof.

The Elvie device was built by women, for women. It's designed with new moms in mind, and made for better bladder control and core strength. Elvie developers claim it should only take a month of routine exercises to see a difference.

The smartphone app allows you to track your progress in realtime. It stores your data and enables you to track your progress. It's compatible with all iOS and Android devices, going back as far as the iPhone 4S. 
The app incorporates holds, quick squeezes, and relaxation exercises.

It's made with medical-grade silicone, making it hypoallergenic, easy to clean and safe to use.

Features include "biofeedback", which means the machine monitors the movement of your pelvic floor and can provide guidance based on this information. It measures both force and control, as well as your ability to relax your muscles.  

The device is on the smaller side, but it comes with a removable cover which makes it larger for those who need a bigger device, ensuring a proper fit.

There's an included carry case that's discreet, which also doubles as a wireless charger. You also have the option to charge it via a USB port.
Pros
High-quality silicone.

100 percent waterproof.

Two size options.

Plenty of tech features including force, control, and relaxation training

Streamlined and attractive charger that you won't mind plugging in next to your bed.
Cons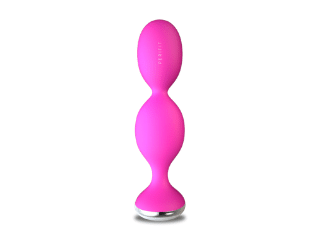 The Perifit Kegel Exerciser is a double ball style kegel exerciser that uses games as part of its programming. 
This device comes with a double head style which can help you reach muscles deeper inside the pelvic floor. Compared to other pelvic floor trainers on our list, it's on the larger size making it suitable for those that need a super snug fit. Using lubrication with this exerciser might be necessary.
The accompanying Perifit app is suitable for most Android and iPhone devices and you'll connect your Perifit via Bluetooth. There are basic plus and minus buttons for you to adjust the intensity as you go along.

You have six detailed training programs to choose from: one for postpartum, three for incontinence, one for general wellbeing, and one for prevention. For each setting, the app provides real-time feedback to help you track your journey.
The app includes exercises for holding a contraction, quick squeezes, lifting the pelvic floor, and fully relaxing.
This pelvic floor trainer is made from medical-grade silicone and it's also 100 percent waterproof for those that enjoy a good bath.

Unfortunately, there's no carry case included with the device.
Pros

Nice variety of programs including games.

Exercises include holds, quick-squeezes, lifts, and relaxation.

Easy to adjust the intensity.

100 percent waterproof.

Bluetooth-friendly.
Cons
No case included.

One size fits all.